Terms
Terms and conditions
These are the general terms and conditions of filesmerge.com referred to as "Provider".
Preamble
The Provider provides an infrastructure on filesmerge.com, which should facilitate the User to transfer electronic files from one format into another using file converter programs.
§ 1 General and Application
(1) Following Terms and Conditions apply to every business relation between the Provider and the User as Customer.
(2) Consumer means, in terms of these general terms and conditions, every natural person who enters into a legal transaction for a purpose that is outside its trade, business or profession.
An Entrepreneur means, in terms of these general terms and conditions, a natural or legal person or a partnership with legal personality who or which, when entering into a legal transaction, acts in exercise of its trade, business or profession.
Customers for the purposes of such terms and conditions are consumers as well as Entrepreneurs.
(3) Individual contract agreements have priority ante these general terms and conditions. Diverging, conflicting or complementary general terms and conditions do not become a part of the contract, unless, their validity is expressly agreed.
§ 2 Service description
(1) The Provider provides an infrastructure on filesmerge.com, which should facilitate the Customer to transfer electronic files from one format to another using file converter programs as well as to store those files on Internet servers.
The Provider performs for its Customer through the website filesmerge.com extensive technical server services, hosting services and conversion services. In this way, downloading and uploading of files in various formats are allowed through the server of the Provider. It allows to convert files from one file format to another using Software as a Service (SaaS) mechanisms.
The download includes the downloading of files for the permanent storage on a data carrier. This includes the possibility to download already converted files, as above mentioned, from other serves for further conversion.
The upload includes the providing of files of the Customer in order to storage them on the server of the Provider for the purpose of retrieving them by the Customer.
In general the services provide a user the ability to transform a file (a "User File") from its original file format to a user-selected file format. The services operate by storing the uploaded or downloaded User File on a server, converting it into a new file format ("Converted File") and then providing the user a unique, non guessable download link to the Converted File.
While the Provider tries to ensure that the services are error free, he cannot guarantee that user files or converted files will not be deleted or lost. The Customer acknowledges and agrees that the Provider will not be responsible for any failure of the services to convert a user file or store a user file or converted file. The Customer acknowledges and agrees that the Provider will not be responsible for the deletion of a user file or converted file stored or processed during the provision of the services, or for the corruption of or loss of any data, information or content contained in a user file or converted file.
- End of withdrawal instructions for consumers -
§3 General duties of the Customer
The Customer is responsible for the availability of the technical requirements to use the benefits of the Provider, particularly with regard to the used hardware and software, the Internet connection and the compatibility with the usual browser software. The Customer is also obliged to secure its computer system, particularly to carry out a data backup regularly and to install up-to-date antivirus software. The Provider is not liable for virus damages, which could have been prevented by using the corresponding software.
b) not use the services of the Provider to view or spread neither immoral or illegal statements nor pornographic and right-wing or violent contents;
a) Offers, which application, supply or distribution infringes industrial property rights (such as trademark, patents, utility models and design rights), copyright and ancillary copyright and other rights (such as right to the own image, name and personal rights); the offer of plagiarism is not permitted;
b) pornographic and harmful offers;
c) propaganda articles and products from any unconstitutional organization:
d) weapons as defined on the Weapon Act, particularly firearms, cutting and stabbing weapons of any kind as well as ammunition of any sort;
e) protected live animals, products and preparations of protected animals as well as protected plants and their preparations;
f) bonds – especially shares – credits, loans and financial aim; money market and financial instruments, excluded from historical bonds that are not in circulation anymore;
g) debt obligations and court titles as well as other claims arising from collection legal transactions;
h) vouchers, which are available free of charge for everyone;
i) goods whose possession is lawful, but their use in the country of delivery is prohibited;
j) human organs;
k) goods for a lower price as the statutory fixed price, insofar as the fixed price is not charged and there is no exemption;
l) land and land rights.
(1) The Customer is the sole responsible for the contents and for the accuracy of the transferred data.
(2) The Customer is not allowed to convert files automatically using a scripting language. The sole exception is by using our API service.
(3) The Customer is not allowed to share his account and login data.
§ 4 Blocking of access
(1) The Provider reserves the right to revoke the right to access to its services or to reject the registration of a Customer who misuses the services of the Provider or violates these general terms and conditions. The Customer will be immediately notified per email about this revocation of the right to access or rejection of the registration.
(2) If the Customer fails to meet its obligations under these general terms and conditions; violations, for which the Customer is responsible, the Provider is entitled, subject to any further claims, to temporally fully or partially block the access to its services. Thereof, the Customer will be immediately notified per email.
§ 5 Infringing content policy
(1) Every user of the website has the possibility to report any violation of its intellectual property rights caused by any content on filesmerge.com.
For this purpose, the Provider requires detailed information. This information should content the following:
a) A statement that contents at filesmerge.com infringe intellectual property rights of the user or of third parties who authorised the user to act on their behalf;
b) An identification of the copyright claimed to have been infringed, indicating a link to the relevant content;
c) Full name, address, telephone number and email address of the user;
d) A statement, that the user is either the copyright owner or a person authorised to act on their behalf;
e) A statement that the user believes in good faith that the use of the content in the manner complained has not been allowed neither by the intellectual property rights owner nor by any other for this purpose authorised person.
(2) If desired that the complaint should be considered pursuant to the U.S. Digital Millennium Copyright Act section 17 paragraph 512(c), those requested in section 9 (1) shall be stated under penalty of perjury. Furthermore, an electronic or physical signature is also necessary under the above required information.
§ 6 Privacy Policy
(1) Customer data are collected, stored and processed by the Provider in compliance with currently effective norms relative to the protection of personal data for the fulfilment of the contract.
(2) Personal data collected during the registration and performances of the services are treated in strict confidence. These data are collected, stored and processed when legally allowed or in case that the Customer consents herein.
(3) The Provider is obligated to inform the Customer at any time upon request thoroughly and free of charge in regard to the stored data provided that it affects him. The Provider will neither pass on this data nor the contents of private messages of the Customer to third parties without its consent. However, this is not applicable if the Provider is legally obligated to disclosure such data to third parties, in particular governmental authorities or as far as internationally technical standards require doing so
Aide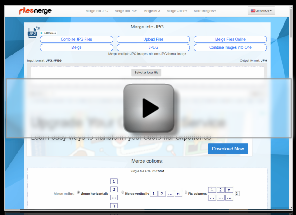 compress video

crop video

split video

coupe vidéo
Comment fusionner des fichiers en ligne?
1. Glissez-déposez les fichiers dans la zone de téléchargement ou cliquez sur le bouton'Sélectionner un fichier local'pour télécharger les fichiers.
2. Triez les fichiers téléchargés.
3. S'il y a des options set, définissez l'option de fusion.
4. Cliquez sur le bouton 'Fusionner' pour fusionner les fichiers.
5. Téléchargez le fichier fusionné.
Obtenez un accès illimité à FilesMerge
1. Accès illimité à l'ensemble des 9 outils FilesMerge en ligne.
2. Paiement unique, frais non récurrents.
3. Pas ou peu de publicité sur les outils Web.
4. E-mail. support technique.
5. Service plus rapide et plus stable.
À propos de la confidentialité de vos fichiers
Tous les fichiers que vous avez téléchargés, ainsi que les fichiers fusionnés, ainsi que le contenu que vous avez rempli. Les deux seront supprimés définitivement de nos serveurs au bout d'une heure. Nous exécutons un script de nettoyage automatique pour effectuer le travail. Nous ne stockez pas, ne partagez pas, ne visualisez pas ces fichiers. Veuillez vérifier les conditions générales du site Web pour plus de détails.
Faire un don en Bitcoin


bitcoin:13MxU8NQ8vMHfZ75qGPtwrQBocZ2VDeVLe