Merge Images
Merge multiple different format images into one JPG, PNG, BMP, GIF format image
About image format
The main supported image formats are: BMP-Windows Bitmap, PNG-Portable Network Graphics, JPEG-Joint Photographic Experts Group, GIF-Graphics Interchange Format, TIFF-Tagged Image File Format.
In your daily work and life, you will sometimes need to merge two or more pictures. Plenty of software can help you achieve what you need, but they may take some effort to work. Or you can simply ask someone to help you.
This page can be perform a simple image merging function. It supports most common image formats such as JPG, PNG, BMP, GIF.
In the option settings, you can choose to merge horizontally, vertically or set a number of pictures per line
Input format:
JPG,JPEG,PNG,GIF,BMP
Output format:
JPG,PNG,GIF,BMP
(*This site does not store user uploaded files, all uploaded and converted files will be automatically deleted after 2 hours, By uploading documents, you are agreeing to our Terms of Use
Terms of use
)
Other tools:Merge JPG to PDF
About Merge Images options
Merge images has three modes. The first is vertical merge. The picture is merged into a picture from top to bottom. The second is horizontal merging, which is merged into a picture from left to right. The third is a fixed number of columns. If the number of fixed columns is 3, 3 pictures are merged from left to right. Then the next line, then merge 3 pictures from left to right. Finally it will become a rectangular picture. The last option is the format of the output picture, the default is JPG, you can choose PNG, GIF, BMP, etc.
Merge photos without opening software (such as Photoshop). Don't ask your expert friends It can be done with a click of the mouse. It is very convenient to download to your own computer immediately after completion.
The processing of the images is done in the cloud, don't worry about the environment and configuration of your computer, Don't worry about what operating system your computer is. Just connect to the Internet.
Help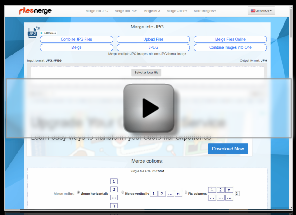 compress video

crop video

split video

video cutter
How do I merge files online?
1. Drag and drop files to the upload area, or click the 'Select a local file' button to upload files.
2. Sort the uploaded files.
3. If there are options set , set the merge option.
4. Click the 'Merge' button to merge the files.
5. Download the merged file.
Get unlimited access to FilesMerge
1. Unlimited access to all 9 FilesMerge tools online.
2. One-time payment, Non recurring charge.
3. Less or no ads on web tools.
4. Email technical support.
5. Faster and more stable service.
About the privacy of your files
All the files you uploaded, and the merged files, as well as the content you filled out. Both will be removed from our servers forever after an hour. We run an automatic cleanup script to do the job. We do not store, do not share, do not view these files. Please check the relevant terms of the website for details.
Donate Bitcoin


bitcoin:13MxU8NQ8vMHfZ75qGPtwrQBocZ2VDeVLe