Merge JPG
Merge multiple JPG images into one JPG format image
About JPG format
JPEG full name is Joint Photographic Experts Group, is a A common image format developed by the Joint Photographic Experts Group and named ISO 10918-1.
The compression technology of JPEG files is very advanced, it removes redundant images and color data, and obtains extremely high compression ratio. At the same time, it can display very rich and vivid images, and can get better image quality with the minimum image size.
At present, all kinds of browsers and operating systems support JPEG image format, JPEG format file size is small, download Fast, so the website page can download a lot of beautiful images in a short time.
JPEG is also the most popular image format on the web.
On many occasions, you may need to use the picture merging function. For example, merging two passport photos, or merging food photos into a menu, etc.
The usual method to accomplish this is to use PhotoShop software or MS Painter software attached to Windows.
But if you are not an experienced computer operator, you may find this difficult. A series of questions surface in your mind: where do I download the software, how do I install it, how do I operate it after installing it? Also, some software even takes your money!
This page can help you achieve this function so that you don't have to do any download or install any software. And it is completely free. All you have to do is: select the pictures, merge them online, and download the merged file.
(*This site does not store user uploaded files, all uploaded and converted files will be automatically deleted after 2 hours, By uploading documents, you are agreeing to our Terms of Use
Terms of use
)
Other tools:Merge JPG to PDF
There are three modes for Merge JPG options
The first is vertical merge, The JPG pictures are merged into one picture from top to bottom in order. The second is horizontal merging, The pictures are merged into one picture from left to right in order. The third is fixed column number, merged from left to right, to a certain Quantity, then merge from left to right in below line. Finally it will become a rectangular picture.
Our website uses the HTTPS security protocol, HTTPS is an encrypted transport protocol. So, your File transfer is encrypted and reliable. Your operation, your data is also safe. Others can't intercept your file information.
Combine JPG with just a click of the mouse, the operation is very simple and easy. No cumbersome settings, No extra time to learn.
Help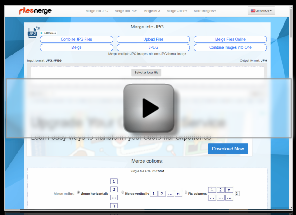 compress video

crop video

split video

video cutter
How do I merge files online?
1. Drag and drop files to the upload area, or click the 'Select a local file' button to upload files.
2. Sort the uploaded files.
3. If there are options set , set the merge option.
4. Click the 'Merge' button to merge the files.
5. Download the merged file.
Get unlimited access to FilesMerge
1. Unlimited access to all 9 FilesMerge tools online.
2. One-time payment, Non recurring charge.
3. Less or no ads on web tools.
4. Email technical support.
5. Faster and more stable service.
About the privacy of your files
All the files you uploaded, and the merged files, as well as the content you filled out. Both will be removed from our servers forever after an hour. We run an automatic cleanup script to do the job. We do not store, do not share, do not view these files. Please check the relevant terms of the website for details.
Donate Bitcoin


bitcoin:13MxU8NQ8vMHfZ75qGPtwrQBocZ2VDeVLe