Merge Word
Merge multiple Word documents into one Word document
About Word Format
Microsoft Office Word was developed by Microsoft Corporation Word processor application. It has always been the most popular word processing program. Word provides a rich and powerful word processing function. Word format is a private file format, there is no public documentation.
In many cases, you need to merge multiple Word documents into one. For example, multiple order files for customers, multiple contracts, multiple transcripts. You can open Word software, one One to copy, paste. You can also use a tool to help you. Because the format of the Word document is not public, it is difficult to find a software to complete your work.
The service has been shut down due to the heavy burden on the server, I am very sorry. The code for the relevant program is open source and uploaded to github.com. Users who need it can download this program to perform locally. Here are the steps:
step 1: download the word_merge.exe from github.com:
https://github.com/stevenlv1980/msofficetool
step 2: open the CMD in windows start menu.
step 3: use below cmd merge MS word files:
word_merge input1.doc input2.doc merged.doc
About Word Options
There are no options to set, they will be merged by default.
The program that merges Word, executed on our server. It won't take you. Computer resources. Your computer does not need to download and install additional software.
Click the mouse to complete it. No complicated interface, no complicated operations Steps. You don't have to spend time learning the manual. Get the results you want in the least amount of time.
Help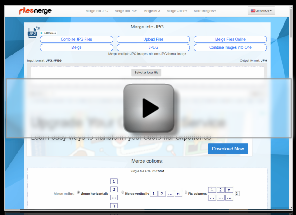 compress video

crop video

split video

video cutter
How do I merge files online?
1. Drag and drop files to the upload area, or click the 'Select a local file' button to upload files.
2. Sort the uploaded files.
3. If there are options set , set the merge option.
4. Click the 'Merge' button to merge the files.
5. Download the merged file.
Get unlimited access to FilesMerge
1. Unlimited access to all 9 FilesMerge tools online.
2. One-time payment, Non recurring charge.
3. Less or no ads on web tools.
4. Email technical support.
5. Faster and more stable service.
About the privacy of your files
All the files you uploaded, and the merged files, as well as the content you filled out. Both will be removed from our servers forever after an hour. We run an automatic cleanup script to do the job. We do not store, do not share, do not view these files. Please check the relevant terms of the website for details.
Donate Bitcoin


bitcoin:13MxU8NQ8vMHfZ75qGPtwrQBocZ2VDeVLe